I think winter is the most beautiful time of year to be a photographer. I love seeing the simplicity created by a heavy blanket of snow and photographing the clean lines and the pureness of the countryside that only appears in winter.
I have spent years driving the backroads of Vermont finding great locations for winter photos and now I will share them with you.
Join me for this unique photographic experience as you learn the tricks and techniques involved in capturing those special winter scenes.
You will learn how to get proper exposures in the snow, which is one of the hardest conditions to get the right exposure. Once you learn how to photograph on a sunny day in the snow, you'll never have trouble getting the perfect exposure again.
We will extensively talk about using geometric lines in your photos to improve your composition. Simplifying your photos by concentrating on lines can turn ordinary images into "wow" pictures. Winter is the best time to learn to simplify and what you learn will carry over into the rest of the year.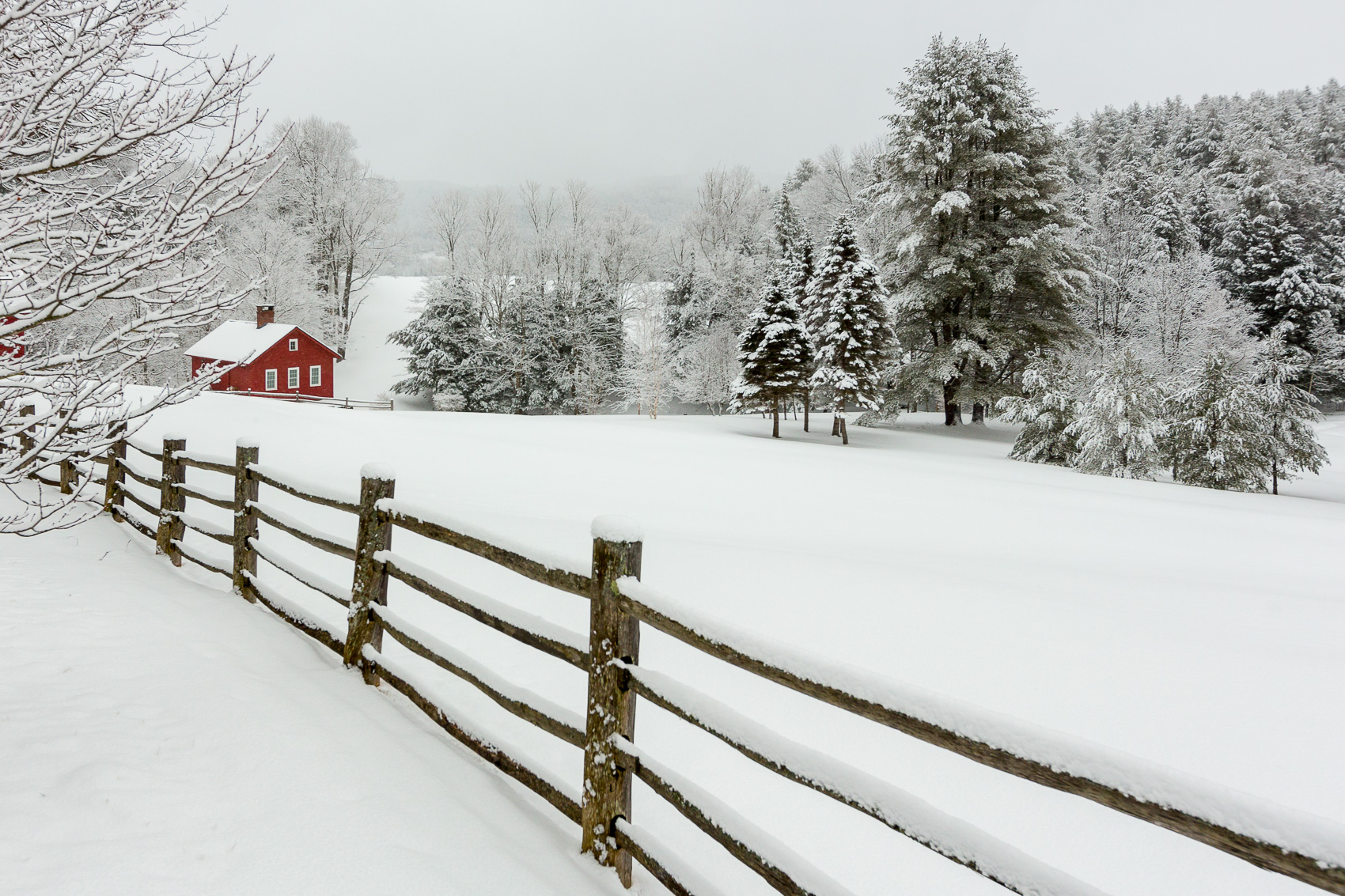 We will be based at my art gallery in Woodstock, VT, which is one of the most beautiful towns in New England. We will photograph historic covered bridges, one of America's most photographed farms, rural scenes and classic small town Vermont.
Just so you know, I'm not one of those people who loves freezing, I know how to dress properly and I have found locations that don't require a great deal of time outside the van. If you get cold, you'll always be near a warm place to take the chill off. I'll teach you how to stay warm, including your hands and how to keep your camera and lenses from freezing or fogging up from condensation when bringing them in from the cold.
You'll get a ton of information before the workshop to help you be prepared, it won't involve spending money on lots of new things but maybe the right gloves. I'll help you winterize your tripod for less than $5 so it doesn't freeze your hands.
It is mostly a shooting workshop, we'll start inside on Saturday for about an hour as we get to know each other and talk about composition and shooting in the snow. We'll shoot for the rest of the afternoon and then we'll do light painting on a covered bridge at dusk. Sunday we are out at sunrise and shooting all day (with breaks of course!) and then after it gets dark we get together for pizza at the gallery. Monday it is shooting from sunrise until noon.
Although I can't guarantee the ground will be white with snow, Vermont is usually snow covered at this time of year. There will be snow at nearby ski resorts and plenty of great visual things to photograph. No matter the weather, we'll be able to work on proper exposure and making better photos by visualizing the diagonal, vertical and horizontal lines that make for stronger composition.
Jan. 13-15, 2023
Starting at 2 p.m. on Saturday, ending at noon on Monday.
Price:
$469 Regular registration
$439 for early registration by Nov. 15
$419 for previous clients
Cancellations:
I must receive notice of your cancellation in writing, at which time I offer the following refunds:
90 days or more before workshop: Full workshop refund minus credit card processing fee.
89 to 30 days before workshop: 50% refund of workshop cost minus credit card processing fee. Your entire workshop fee will be refunded if I can fill your spot.
29 or fewer days before workshop: no guaranteed refund. If you must forfeit your workshop fee I will refund your full payment, minus credit card processing fee, if I can fill your spot.
No partial refunds are made for unused portions or services of a workshop. Workshops are sold as a package only.

If the workshop is cancelled, you will receive a full refund of any money paid.

Questions? Contact Loren or call 802-332-6611.

If you have haven't driven in Vermont much, they drive the speed limit and expect the same from you. When the speed limit is 25, don't drive 35 or you'll get a ticket.